NOTE: This lesson contains content that may only be applicable to active VOHeroes Pro members.
PROS ONLY When you attend our monthly ProConnect session, you'll log on to Zoom, and if you do so before the start time, you'll likely see this countdown screen, letting you know how long before the session begins, and giving you some helpful tips on how to make the ProConnect session useful and easy to watch:
Follow the instructions on the screen to maximize your chances at a great experience.
Once we get underway, we'll remind you that the session is being recorded so Pros who can't attend can listen to a replay, we'll look at the agenda for the session, and then we'll take things in order. This is a general agenda and may vary from month to month, but this is the core of what we do.
Thought starter
First, an inspirational thought starter that might create some personal reflection about your journey and your mindset: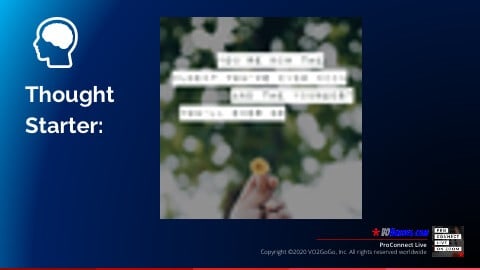 Victory reports
Then, we'll move on to an opportunity for you to offer the attendees a victory report, a short couple of sentences on one thing that happened in the last 30 days that you count as a victory. It doesn't have to be huge, just something you want to share that was a win for you.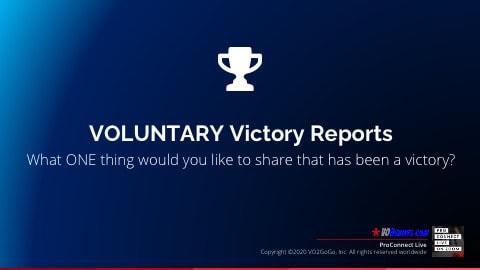 It's voluntary – you don't have to participate, but if you got something accomplished you're proud of, let us know.
Two Minute Updates
This is the heart of what we do, along with the Q&A/Issue Time segment, where you share what you've prepared about what's happened in the last 30 days in your VO practice, and what you have planned in the next 30 days.
The Two Minute Updates are mandatory for all participants – and we require you to create notes prior to the session that will allow you to stay on track, as you get two minutes to update us: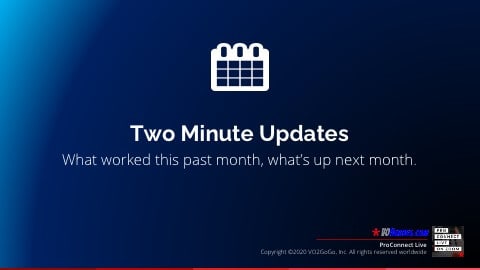 You'll actually be timed, so be brief and concise, and as you listen to others, if you have questions, share them in the next segment.
Q&A/Issue Time
After we review our 3-2-1 homework method to help you organize your upcoming month's activities, we'll open the floor for questions, comments, shares and issues you're dealing with that you need help with and more: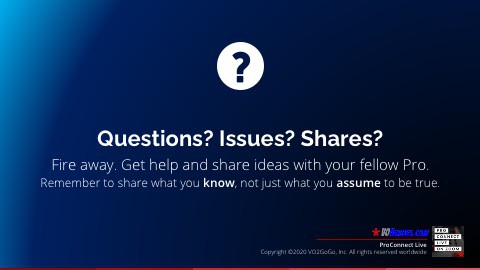 This is the other core segment of our monthly session, where you not only get help from your coaches and the moderator, but also from your fellow Pros. We want you to not only seek answers, but if you have experience with something that's a challenge to one of your fellow Pros, feel free to raise your hand and join in the discussion.
#1 Takeaways/Admin Wrap Up
We close ProConnect Live with a trip around the "room" asking what your #1 takeaway was during the session (it's voluntary), and any administrative information we may need to share with you: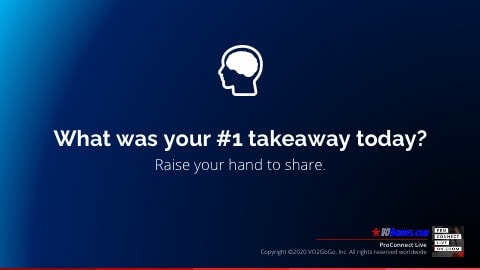 We want the experience each month to be enlightening, uplifting and inspiring – and it's always that way if you choose to participate.
Don't forget to set a reminder on your personal calendar for the first of every month to register for the ProConnect Live session. It's traditionally held at 9am PT on the last Wednesday of the month.