5.2 All courses (and your courses)
There are dozens of courses on the VOHeroes website, most of them part of the Pro curriculum.
There are also free courses that are open to the public, and there are extracurricular courses that are open to various membership levels.
By clicking on the Courses icon on the left hand side panel (desktop) or tapping on the mobile menu (phones/tablets):

…you'll then see all of the courses we have on the VOHeroes site, and they will be grouped in two sets.
The first set is the group of courses you are enrolled in. If you're not a Pro member, you may not be enrolled in any courses yet, so this area may be empty. But if you have access to any of the courses, you'll see them here, and you can click on any of them to access their content:
The second set is the group of courses you are not yet enrolled in (VOHeroes Pros usually have access to all of the courses we offer, so this area will be empty for them):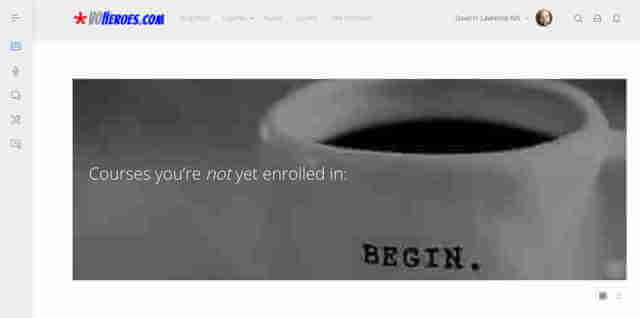 If you see classes here you want access to, you can purchase any class we offer by clicking on it. You can also join our Pro membership, and get access to all of them.
There are even more courses available to you if you're a Pro, outside the Pro curriculum. We call those Extension courses, and we'll talk about those later. But first, let's get you into the courses themselves so you can take them.