4.8 VOHeroes Articles: podcasts, blog posts and more
We cover a lot of information in the courses that make up the curriculum.
But any course, or textbook, or session, or workout is going to be a snapshot of the information available at a particular moment in time (we actually update the coursework continuously, but stick with me here).
Our business can change in a heartbeat. And when things change, you need to have a tool to keep up with those changes.
Enter the VOHeroes articles and podcast episodes:
We'll compose, write, shoot videos, publish podcast episodes, interview people, record sound, provide links, and anything else that's appropriate to stay on top of the news, the developments, the changes and any ups and downs of our industry.
How to get there
The blog posts are accessible by clicking the Articles link in the Toolkit menu item on the Toolbar top menu bar, just to the right of the VOHeroes logo:
That will take you to a list of the most recent entries, and you can browse all of the posts going back to the very beginning of my teaching over a decade ago, when the site was called VO2GoGo.
And you can search for content in any of the articles or podcast episodes, simply by clicking on the magnifying glass. Then, all the menu items will disappear, and you can type what you want to search for in the bar that is displayed.
Try it: click the magnifying glass, and search for "normalization". Here's what you'll see: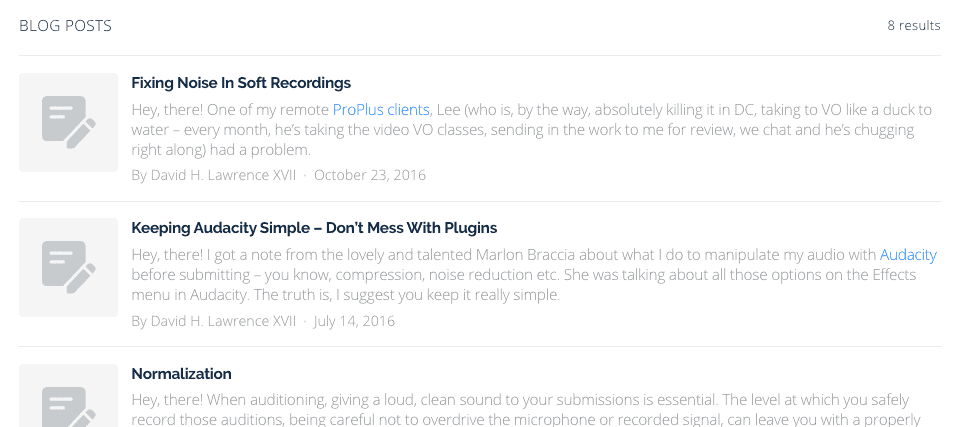 You'll get posts that talk about the subject you're searching for, as well as any other things that do, like lessons, discussions and Labs.
There are posts going back many years, and they are all waiting for you. And, I'm adding new ones all the time.
Search before you ask
A great time saver is to search the blog posts before you post a question in the Pro Connect group (if you're a Pro) – you might be surprised how often the answer is in a blog post already. We've got a lesson coming up on how to do that with excellence.
---
Now that we've looked at the vast array of tactical tools we give you throughout the course, let's dive a bit deeper into each one of them, so you know how to use them effectively. We'll start with the VOHeroes curriculum, and all the gooey goodness in all of the courses.