11.4 Purchasing individual VOHeroes courses
You can purchase individual courses here on the site, by clicking on any of those in the Course listing, under the section titled Courses you're not yet enrolled in. You'll see the course's price, and if you elect to purchase it, you'll get immediate access to that course and can begin taking the course.
Remember that if you are already a VOHeroes Pro, you have access to each and every course in the curriculum, so you don't need to ever purchase an individual course.
To purchase a course you're not yet enrolled in, click on the Courses icon/menu item in the sidebar:

That will take you to the Curriculum page. In the example below, I've framed the Mastering Home VO Gear course as an example of one someone might want to take individually:
Clicking on any course will take you to the main course information page for that particular course. The course page for Mastering Home VO Gear looks like this:
Then, as noted by the red arrow above, click on the Take this Course button. This will take you to the checkout page for the course: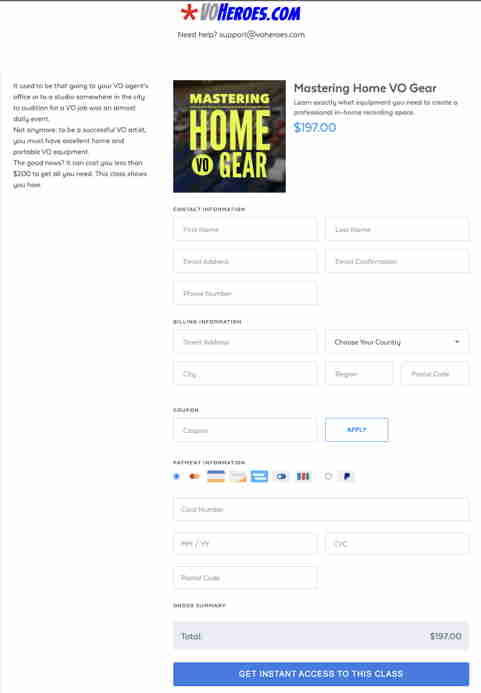 All that's left to do is to pay for the course, and return to the VOHeroes site to take it.
One last reminder: If you're already a VOHeroes Pro, you NEVER HAVE TO PURCHASE AN INDIVIDUAL COURSE that's part of the Pro curriculum.
---
All right…let's take a look at another one of the services we offer and how it works: the VOHeroes demo production process. That's up next.