5.3 How to take VOHeroes courses
With any of our courses, you'll see some common items on each course's main page.
The Preview video
On the main page of each course, there is a preview video, so you can see what the course is all about. Just click on the play button above the words Preview this Course to play that video:
The Course Content and Course Materials
There are two main links just below the header: the Course Content link, which displays the lessons and topics for the course: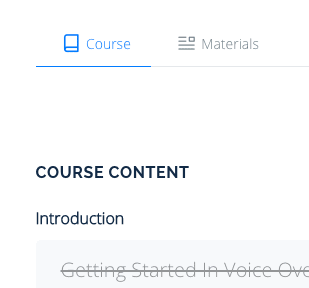 …and the Course Materials link, which contains any printable material associated with the course, like a summary or clips used in workouts (by the way, what's below is a picture – none of the links are active):

When you're on any course page, just click on the links to get the material itself.
Note: on the VOHeroes site, the PDF files we offer usually download immediately, rather than opening up in a new tab or window. They might do both, depending upon your browser, but we wanted to speed up the process for you.
The lessons and topics and final exam
In each course, start at the beginning, and work your way through each lesson and topic, then take the final exam at the end. Once you pass that with at least 80% correct answers, you can print out a certificate of completion to keep as a record, or display in your workspace.
Once you've taken a course, feel free to refer to the content of that course in discussions, to ask questions, to clarify in workouts and coaching the concepts presented, and dive deep into mastery of the topics.
Are you a VOHeroes Pro? Ignore the instruction to send in a clip
PROS ONLY As a Pro, you can safely ignore any instruction at the end of a course to email in a recording of a clip. That is a remnant still included in some courses that have yet to be updated for VOHeroes.com.
Instead of sending in a clip via email, you'll gather your downloaded clip pages from any courses you've taken that month, and you'll pick three. You'll then work on those clips in your monthly workout.
Again, as a Pro member, there's no need to email a recorded clip to us, instead, you'll be working out live on those clips with the coach of your choice.
Once you're in any course, it would be great to know how to navigate around and through the lesson progression. We'll talk about that next.