5.7 Tracking your course progress
Just above this paragraph is a lesson progress bar that shows you just how far you've come in this course, and how much of the material you've accessed and marked as complete.
(If you're reviewing the class after having completed it, that progress bar will always show you 100%.)
If you look to the left of the class content to the list of sections, lessons and topics, you'll find empty gray circles next to topics you haven't completed, blue checked circles next to the topics you have completed, and blue progress circles slowly filling in when you're working through a lesson's topics.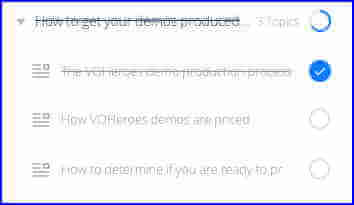 When you're finished with a lesson, that progress circle will become a blue checked circle, indicating you're finished with that lesson and all of its topics, and both the topics and lessons you complete will be struck through when displaying their titles.
The course is complete once all of the topics, lessons and any quiz you might have at the end of the course has been marked complete.
OK…so what would any curriculum be without the opportunity for you to show off all that you've learned? To do that, you need to be tested. You need to pass that test. We give you quizzes galore in this program, and we're going to give you some hands on experience with one up next.