Headphone Recommendations
Hey, there!
My lovely remote client, Denise Fleener, wrote:
Along the lines of headphones…can you recommend a few choices of headphone for the home studio VO artist?
Thanks, as always, for all the info!
Denise
Absolutely, including one which I've been using for over 2 decades, and the other I use more and more frequently.
Here's info on the two headphones I use all the time. You can use either of them effectively in a home studio situation, and easily with the AT-2020 USB Plus microphone. One is the Sony MDR 7506 headphones, and the other is what I call the Sony $10 earbuds.
First, you might consider the Sony MDR 7506 over-the-ear headphones. These classic, amazing headphones are in use in radio studios all around the world, and have been for years. They have a clean, vibrant, full sound that accurately reproduces every nuance in your voice. The plug is a stereo 1/8″ mini jack, and has a screw-on adapter for 1/4″ professional jacks as well, and comes with a drawstring carry bag: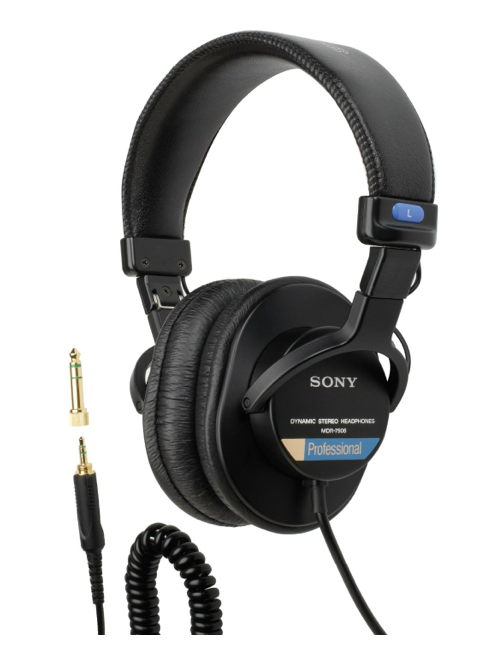 Here's a link to the Sony MDR 7506 headphones that I use.
Second, and I use these in class when I'm recording voice tracks and mixing them back for playback, are also from Sony. And I call them the "Sony $10 earbuds," because they've changed the model numbers a few times over the years – so just know, that if you get the Sony earbuds that are around $10 (sometimes on sale for less), you'll be golden. The Sony MDREX10LP is a typical set of earbuds, fitting in your ear canals, with three different sizes of soft rubber tips included, so you can fit them to your particular ear size. They're ultra comfy, and they reproduce terrific sound just as well as the MDR 7506s, but you'll need an adapter if you're going to plug them into a 1/4″ jack. They have the added bonus of being very, very portable:
Here's a link to the Sony MDREX10LP Earbuds that I use.
I hope this helps.
David