Hey there!
What's the number one support question I get from Audacity-loving VO artists?
"Wow! All of a sudden, my audio sounds awful/noisy/muddy/hollow/like crap! What's up with that?"
Here's what's up with that.
Many of you use the virtually standard combination of the AT-2020 USB mic (hoepfully, the AT-2020 USB Plus version) and Audacity sound recording software.
Virtually all of you are happy with the results you get.
Until you're not.
One day, it's like your mic stops working – and starts to record you from somewhere in some other room. Or with hiss. Or with noise. Or its "fuzzy." You can't quite describe it, but it almost sounds like you're now recording from the crappy little mic built into the laptop itself.
Guess what?
You probably ARE recording from that crappy little mic built into the laptop itself.
See, whenever I get an email that's in that general ballpark, my answer is simple: Restart Audacity. Check Audacity's Preferences >> Devices >> Recording to make sure the AT2020 and Mono are selected.
And don't ever launch Audacity unless you've plugged your mic in first.
Sadly, this is almost always the answer – that you started Audacity, and forgot you hadn't plugged your AT-2020 back into the USB port. So you do, and you think that now, Audacity's listening to and recording from that mic.
But it's not.
It's still recording from the built-in mic, because that's all it could find when it started up. Here's the thing to remember: that's the only time Audacity even looks to see what microphones you have plugged in. Plug in your AT-2020 USB after you start Audacity, and nothing changes. Oh, you're happily talking into your AT-2020 USB, thinking you're addressing the mic properly and expecting great results, but you're actually being picked up by the crappy built-in mic a foot or more away, and a world away in quality.
The solution is to quit and re-launch Audacity, and just to be sure, check Preferences >> Devices >> Recording to make sure that you've got the AT-2020 USB and Mono selected.
There's one other way of accomplishing this: the developers of Audacity have recently added a new command on the Transport menu called Rescan Audio Devices, which will look at the USB port again, for any new microphones you may have connected since Audacity was launched: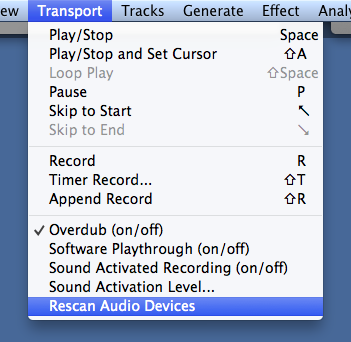 Plug in your AT-2020 USB Plus, choose that command, and then select the AT2020 microphone from the recording and playback drop down menus in the control area of the recording window.
And in the future, don't even THINK of launching Audacity until your mic is plugged in.
Hope this helps.
David