Fixing Noise In Soft Recordings
Hey, there!
One of my remote ProPlus clients, Lee (who is, by the way, absolutely killing it in DC, taking to VO like a duck to water – every month, he's taking the video VO classes, sending in the work to me for review, we chat and he's chugging right along) had a problem.
He sent me this month's homework, and while I was listening, I noticed a lot of unwanted room noise in his recordings.
At first, I thought he might have the wrong mic selected in Audacity's input device settings. It's pretty common for that to be the case.
But he wrote back saying that everything was correct, and that things sounded good before he normalized his work, so…
And that was the clue for me.
I asked him to record a clip, and normalize it, saving both versions as MP3s for me to listen to.
He did me one better: he took a screen shot of his normalization dialog:
(Click on it to see the full size screenshot.)
He had his normalization set to 0.0. I like that (I like -3.0 better) – but look at how small the waveforms are in the recording!
And you can see why: in the screen shot, you can also see the input level setting in the upper right hand corner – it's at 1 out of 10, around 5-10% of full input volume:
That means a barely audible sound, and when normalized, the volume will be raised by 10-20 times, and all that room noise is going to be 10 to 20 times louder too.
And that was Lee's problem.
The fix? Simple.
I had Lee increase the recording level to 40 or 50% of full input volume by sliding the control to the right to 4 out of 10:
Room noise will stay the same, but when normalized to -3.0, the volume of the recording will be raised no more than a little bit, as will the room noise. And the difference was amazing. Lee took another screen shot after he'd made the change – and the sound was incredible:
(You can click on this one to make it bigger as well.)
Look how much bigger those waveforms are. That means they are much louder (without being distorted) – but the room noise is the same. And it won't be increased all that much, if at all, when he normalizes the clip.
[tweet_box]A simple fix to crappy-sounding recordings[/tweet_box]
If that normalization is at -3.0 (which is a good habit to get into anyway, as that's what ACX wants everything to be at), the noise floor will go down proportionally to the reduction in overall volume: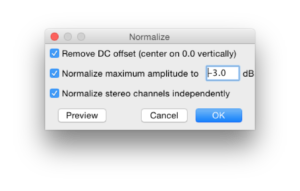 Here's your takeaway: make sure that you're recording at a decent level – usually around a 4 or 5 on the scale of 10, but maybe a bit higher or lower. That's where Audacity has it when you first install it, so you probably have it set that way now – but you should check. And be nice and close to your mic – around an inch and a half or so (three fingers) between you and the mic.
Hope this helps.
David