My Gear: Podcasting
I've not only been asked countless times to recommend the microphones, computers, editing equipment and other technology I personally use, but have also written about the more mundane but really useful things I use (like my chair).
Well, here you go: my entire home studio set-up, along with (mostly) Amazon links to get each of the items listed at a nice discount. Items are divided into major categories by tabs below, like hardware, software, adapters and the like. I hope you find what you're looking for here – if you don't, leave me a comment below and I'll post other items I use.
CATEGORIES: VOICEOVER | ON-CAMERA | COMPUTERS/TECH HARDWARE | SOFTWARE | PODCASTING | ADAPTERS/CABLES | ACCESSORIES/FURNITURE | BOOKS | VOCAL HEALTH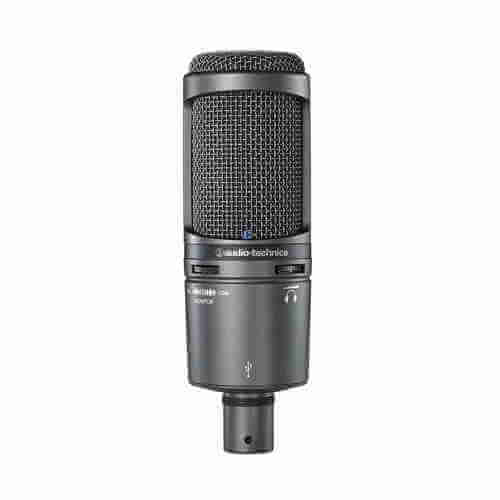 The AT-2020 USB Plus has been my go-to microphone, both at home and on the road, for over a decade. It's far less expensive than its quality would dictate, and it's the only USB microphone with real-time monitoring and a high-end analog-to-digital conversion circuit. I have done nearly all of my audition and production work with this microphone, and I can't recommend it highly enough. It's actually overkill for podcasting, but it's utility is one of it's strong suits.
Again, this is ONLY if you're doing a SOLO podcast. If you have MULTIPLE HOSTS/GUESTS, use the AT2020 studio mics and Behringer mixer listed elsewhere on this page.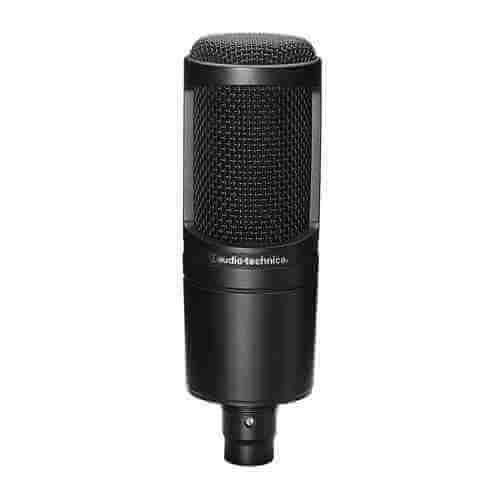 Notice there's no "USB Plus" after this mic's model number? The AT-2020 series of microphones not only has that other USB version for everyday VO work, but they have the exact same microphone in a traditional non-USB XLR format (for a lot less money). It has the same audio qualities of the Plus, but plugs into a traditional XLR input on a mixer (like the Behringer we recommend below). You'll want to get enough of these to cover you, your hosts and your guests – however many you'll have speaking at once.
Again, this is ONLY if you're doing a MULTIPLE HOSTS/GUESTS podcast. If you are doing a SOLO podcast, use the AT-2020 USB Plus mic, without the need of a mixer.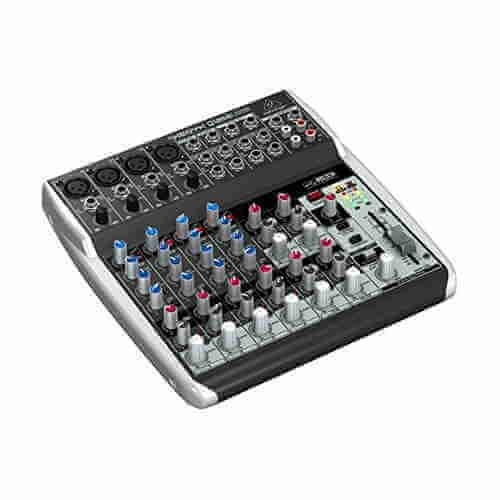 This mixer is usually less than $100, yet remarkably has 4 XLR inputs (so you can have 4 people speaking at once with their own microphones), and each microphone channel has it's own EQ, compression and level inputs. The mixer output feeds into your computer's USB input. You then control the volume on everyone's mic individually, and Audacity (or whatever sound software you're using) records the final mixed sound.
Again, this is ONLY if you're doing a MULTIPLE HOSTS/GUESTS podcast. If you are doing a SOLO podcast, all you need is the AT-2020 USB Plus mic listed above: you DON'T need this mixer.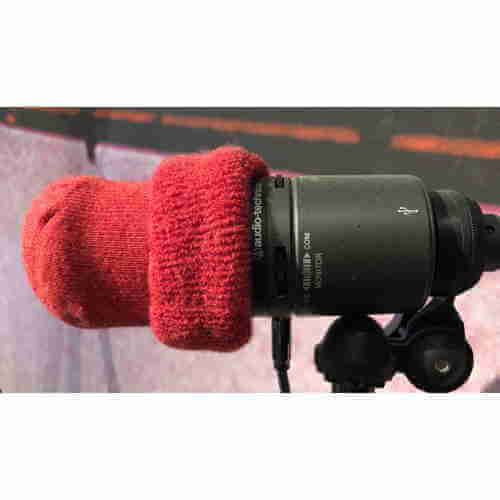 I finally found a source for the perfect thickness sock. I've been using this as a pop filter on my large-diaphragm microphones for years. 100% cashmere, the Mike Sock fits perfectly over the AT-2020 USB Plus. It's $9 plus shipping.
You'll need just one if you're doing a solo podcast, or one for each microphone you plug into your mixer for a multiple host/guest podcast.
CATEGORIES: VOICEOVER | ON-CAMERA | COMPUTERS/TECH HARDWARE | SOFTWARE | PODCASTING | ADAPTERS/CABLES | ACCESSORIES/FURNITURE | BOOKS | VOCAL HEALTH