My Gear: Accessories/Furniture
I've not only been asked countless times to recommend the microphones, computers, editing equipment and other technology I personally use, but have also written about the more mundane but really useful things I use (like my chair).
Well, here you go: my entire home studio set-up, along with (mostly) Amazon links to get each of the items listed at a nice discount. Items are divided into major categories by tabs below, like hardware, software, adapters and the like. I hope you find what you're looking for here – if you don't, leave me a comment below and I'll post other items I use.
CATEGORIES: VOICEOVER | ON-CAMERA | COMPUTERS/TECH HARDWARE | SOFTWARE | PODCASTING | ADAPTERS/CABLES | ACCESSORIES/FURNITURE | BOOKS | VOCAL HEALTH
Cheap, hardy and simple. Mine have been holding up beautifully for over three years, protecting the hard drives in them from dust, heat and wear. Get one for each of your backup drives, and one for your external storage drives.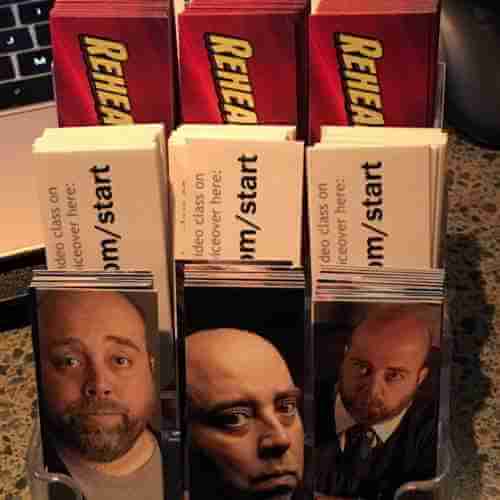 I love these cards! The classic MOO cards, pictured above, are half the height of a typical business card (they also print regular-sized cards. You can create 100-card sets of them that are identical (like the VOHeroes and Rehearsal® Pro cards), or with each individual piece sporting a different image on one side of the card (notice my acting cards in the bottom row of the stand):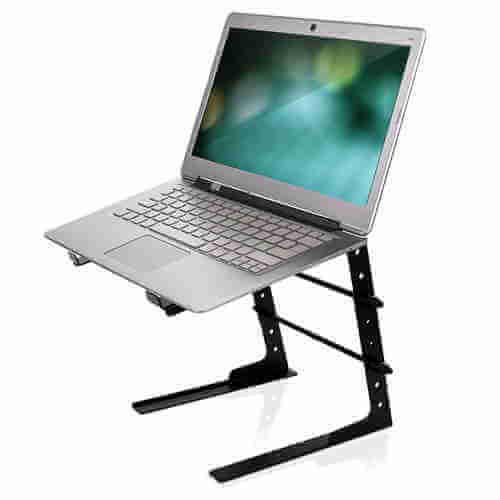 Because the MacBook is so small, simply placing it on your desk in a comfortable position to view and work with it has one big unfortunate drawback: the built-in iSight web cam (or the Logitech C922X I use) is way below your eyeline. That means when you're doing video (recording, Skyping, etc.) you're going to look funny – with the iSight shooting up at your face. The fix? This awesome laptop stand that raises your MacBook to just the right height for video work, and…it's also easier on your neck when doing everyday work, since you don't have to look down at an angle.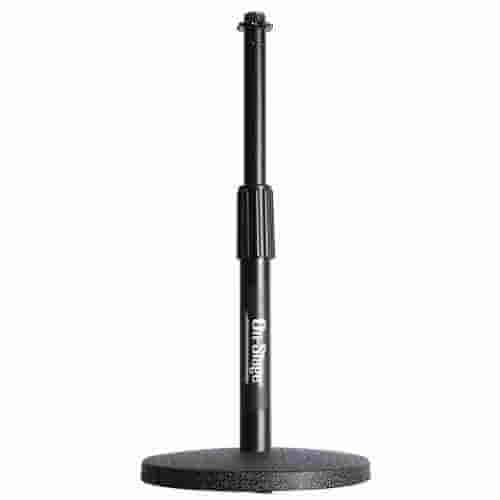 The ultimate in simplicity and utility, this is the classic desktop stand that adjusts in height, is movable to anywhere you need, and is portable for travel. Screw the stalk into the base, and you're ready to go. Attaching the AT-2020 microphone to this stand (or any other standard stand) might be a mystery, but we solve that mystery here.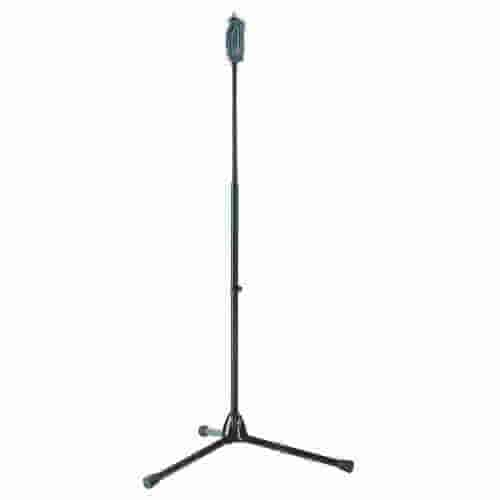 When I teach classes and workshops, instead of a desktop mic stand, I use one of these adjustable (with just one hand) floor-standing microphone stands. To adjust the height of the microphone, you just squeeze the clutch's grip and up or down you go. Let go when the height is right. It's lightweight and has a three-legged fold out base.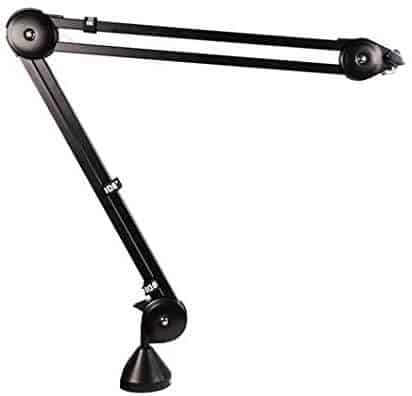 My studio used to be the home of my network radio show, and so you can still see the remnants of those days when I would have guests on the air with me. Their microphones were mounted on adjustable boom arms, and the very best one (and least expensive for the quality) is the RØDE PSA 1. NOTE: It's best to drill a hole in your desk and mount it with the permanent, solid desk screw, rather than the C-clamp option, which will eventually chew into your desk surface.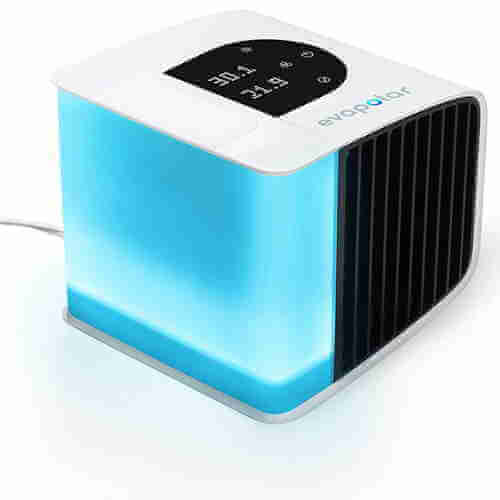 The thing is, your recording space is likely to get over heated, mostly because you blockade yourself into a small space with blankets, pillows and other insulation. This personal air conditioner, which just sits on the table, not requiring any ductwork out the window, does a great job of cooling things down. You can't run it while you're recording, but you can while you're editing (or just doing admin work) – and it's evaporative, so it humidifies the space at the same time it cools it. It's about a cubic foot in size, and mine sits right next to me. It's awesome. When this product first was crowdfunded on IndieGoGo, I was one of the early early bird backers, and I was really excited when the product came out…and it really worked!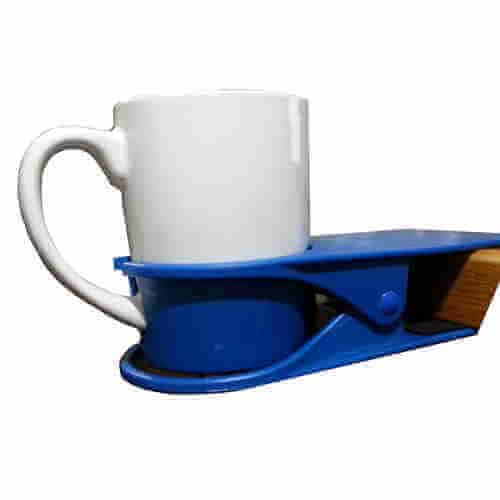 I'm always vigilant about liquids in the studio – one spill can really ruin your day. Or week. But I still want to have my water and Starbucks DoubleShots within reach – just not within damaging distance of my equipment.
Enter this little beauty – it's a spring loaded clip that fits over the edge of any desktop surface, and keeps your drinks separate from the desktop itself. It's also more of a cup holder, rather than a simple surface, so drinks are unlikely to spill at all (and if they do, they spill on the floor).
Here are the exact moving blankets my Pro, Caroline, used to isolate herself in a portion of an open room, with great results. These can form soft walls around you and your gear for recording, and can be placed on reflective surfaces to reduce reverberence in an echo-y room. Note that this is a 6-pack of blankets.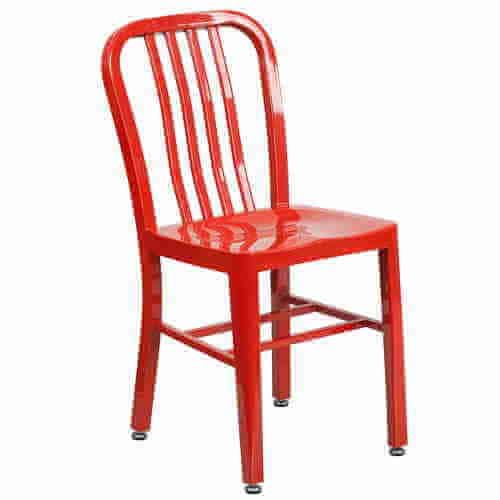 I've called this "the best upgrade I've performed all year." I used to own a great, comfortable chair – an articulated, fully adjustable, gorgeously designed Aeron-lookalike. $1700. But…it was noisy as hell: every joint, every lever, the wheels, the armrests, the back, the seat…everything about it eventually squeaked and clicked and knocked.
Then I got this one-piece, welded, all metal chair, and a cushion from the supermarket, and I've never looked back. It's simple. It's foolproof. It's absolutely silent. And it was 1/30th the cost of my old chair.
BONUS: here's the perfect, long lasting, still-hasn't-collapsed-in-over-four-years-of-use seat cushion to go with it – and I tried more than a few: https://voheroes.com/get-chairpad
CATEGORIES: VOICEOVER | ON-CAMERA | COMPUTERS/TECH HARDWARE | SOFTWARE | PODCASTING | ADAPTERS/CABLES | ACCESSORIES/FURNITURE | BOOKS | VOCAL HEALTH