NOTE: This lesson contains content that may only be applicable to active VOHeroes Pro members.
PROS ONLY One of the most valuable aspects of the entire VOHeroes training program is the private, moderated and supportive ProConnect discussion group. It's only open to active VOHeroes Pro and Pro Emeritus members.
Like groups on social media, meetup groups, even old-school bulletin-board systems (BBSs – anyone remember those?) and chat groups, the ProConnect discussion group is there for you to share challenges and ask for guidance, offer opinions on industry developments, and get information from both the VOHeroes coaching team and your fellow students on all the topics raised.
It's private. Really private.
It's important to note that we've placed ProConnect on the VOHeroes website, after years of its existence on Facebook. We did this because people were moving toward a distrust of Facebook in general, and specifically, they were complaining about Facebook's disregard for protection of personal information.
But the biggest reason we've made ProConnect private is so that you are given a safe environment to engage in exploration, trial and error, failure and review, and deep and informative discussion about your VO practice and voice over in general.
How to find ProConnect
Once logged in to the VOHeroes.com site, just click or tap on the ProConnect menu item on the left-hand sidebar:

Once there, you should see a list of recent topics being discussed, along with some important "pinned" topics that stay at the top of the topic list: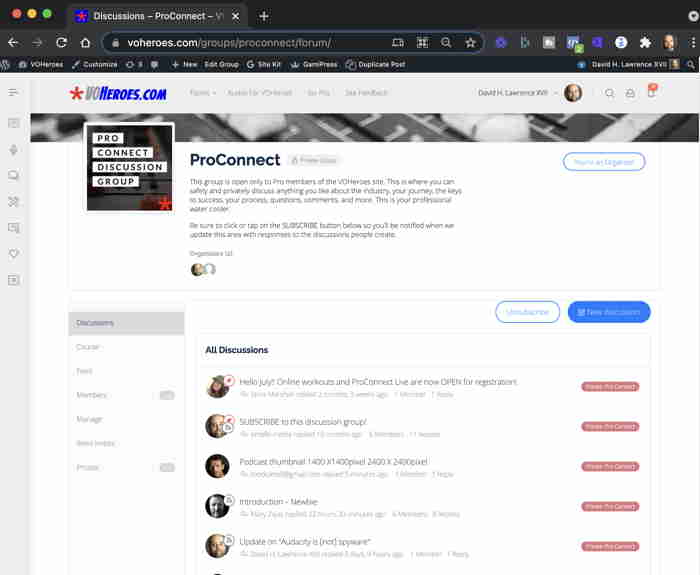 If, when you get there, you get an error that you are not a member and need permission to become one, simply click on the button to request inclusion in the group.
How to participate in ProConnect
PROS ONLY ProConnect is very similar to any other discussion group you might have been a member of, or any social media discussion thread.
First order of business is to SUBSCRIBE to the ProConnect discussion group – this is different from gaining access, rather it's similar to Facebook's Notification setting when placed on All Posts. Once you subscribe, you'll get email notifications when a new discussion is created by a member, or when there is a reply to a discussion you're involved in. It's imperative that you subscribe to this discussion group.
To subscribe, simply click on the SUBSCRIBE button next to the New Discussion button at the top of the list of discussions:

To participate in the group, be ready to ask your question in detail by clicking or tapping on that New Discussion button. But first…
Use the Search option to see if your questions has been addressed by others in the past. Just click or tap on the magnifying glass on the top menu:

which converts that top menu into a search bar. Type in some keywords to see if anyone has brought up your issue in the past. Review anything that comes up before creating a new discussion – often, your query has been dealt with before, and you can get the information you need in a snap.
If not, then do click or tap on New Discussion button to create a new thread for your topic:

Choose a detailed subject line for your post, and be as detailed as you can in your post's body. Give all the details you can come up with: what your question is, what errors you're getting, what you expect, what techniques and tools you're using, etc.
Tips for being a world-class discussion participant
Be kind and helpful and supportive: we don't tolerate snark or contempt. If you disagree with someone, do so respectfully, and explain why. Any provocation or bullying will result in being uninvited to the party.
Be detailed: don't just post "I can't login." Give us details. Give us screenshots.
Don't hijack the thread: when someone is talking about a particular issue, be careful to stick to that topic. If the discussion reminds you of something else, post it as a new discussion, not a branch created by your comment.
And this is a big one: post audio when appropriate
One of the big shortcomings of most social media discussion groups is that they treat audio like a poor media step-child. There's no problem posting text, images, emojis, GIFs, even videos, but somehow, audio isn't an option.
It is on ProConnect.
Audio is the backbone of what we do, so we made a point of making it very easy to post MP3 files. This can be very useful if you're having an issue with your audio not sounding good, a performance question, and so much more.
To post audio, simply click or tap on the speaker icon in the row of icons at the bottom of the composition window for a discussion or reply, then upload your audio: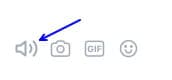 Be spare in your audio posting: don't upload an hour's worth of audio if 10 seconds of the content would illustrate the issue.
Up next, we'll discover another tool we have for you to get the information you need quickly: the Labs.